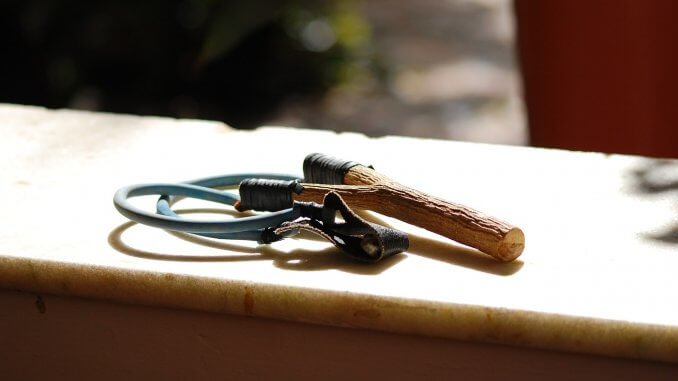 Do you think that shooting / hunting is only for serious sportsmen? Guess again! Lot's of people are enjoying "Recreational Shooting" now, and believe me, it's a blast!
So, What is Recreational Shooting?
It can include:
Sling shots
Air guns
Paint ball guns
… and pretty much anything that sends a projectile. The cool thing about recreational shooting is that you get the exhilaration of shooting, without having to rough it (or even kill anything, if that's an issue.)
Sling Shots… They've Come a Long Way, Baby!
Today's slingshots are light years beyond the old piece of wood with a rubber band that your grandpappy used. While still holding to the basics of the old slingshots of yore, modern slings give you a much more accurate shot, controllable shot.
Modern slings are often made of steel with a molded plastic hand grip.
There's even cool slings that don't LOOK like a sling,  like the ULTRA-SHOT pictured here. It's got over 350 FPS of power, weighs only 3oz, and can anything that fits inside for ammo.
Air Guns / Rifle (Pneumatic guns)
Air Guns use compressed air to shoot their ammo with. Knows as BB guns, they are WAY beyond the Red Ryder of Christmas Story fame!
They come in rifle configurations:
.177 inch (4.5 mm)
.20 inche (5.0 mm)
.22 inch (5.5 mm)
.25 inch (6.35 mm)
You can find them from anywhere as low as $30 up to the creme-de-la-creme at $500. You may even want to pick up a scope, shooting glasses and, of course, ammo (based on the gun's caliber).
Soft Air Guns… Tamer, But Definietly Not Boring
Soft air guns are a "milder" version of air rifles. These "Airsoft" guns are most often used in war simulation games, but your imagination is the only limit to the fun you can have with them.
Although relatively safe, if you're playing war games, you definitely want to wear some protective goggles and possibly other gear. require a certain amount of protective gear to minimize injury. Impact-rated goggles are a must for this sport and the goggles usually used for paintball is often used here as well. Soft air guns can also be used alone with stationary targets.
Paintball (Warning: Not for the Faint of Heart!)
Paintball shooting (a.k.a. simply "paintball) is a sport where you try to "shoot" your opponents with a paint-filled gelatin capsule in order to "eliminate" them from the game.
Your compressed gas-powered gun (a.k.a. marker) shoots at 300 feet/second. Yes, it gives you a jolt, so you DEFINITELY want to be wearing gear if you do this as sport! The standard gear is a paintball maks and goggles.
Your costs for playing paintball:
Guns: $100 – $300
Ammo: $12 – $35
Safety Gear: $25 – $70
So, don't let the hunters have all the fun. You can enjoying any level of shooting you choose, from simple targets on the tree to "getting real" and chasing your buddies around the paintball course!
***********************************
Standard Affiliate Disclaimer: I am grateful to be of service and bring you content free of charge. In order to do this, please note that when you click links and purchase items, in many cases (not all) cases I will receive a referral commission. I only recommend products & systems that I have vetted and think are worthwhile bringing to your attention.